Yeah – I know what you are thinking.  Houston??   Blah.   Unless you grew up there – or maybe even if you did – it might not be the first place you think about for getting away.  Indulge me for a minute.   Houston isn't actually one place – it's lots of little places.   Give it a fair shot and I promise you'll find a few you like.   Among the urban sprawl and endless miles of highway – you'll also find a world of museums, restaurants, & entertainment.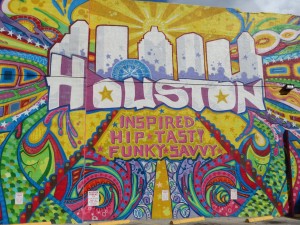 Houston is almost literally a blank canvas that you can paint the way you like.    More often than not, you'll find me calling The Magnolia Hotel my home away from home.   There are lots of interesting places to wet your whistle, but a new discovery for me was the Nouveau Antique Art Bar in downtown, where the ceiling full of reproduction Tiffany lamps provides a unique backdrop.    And given enough time, I'll almost always try to sneak in at least one lunch at Goode Company Taqueria.
So, while it might not be Paris or Rome – or even your favorite place in Texas – Houston can be a great place to go exploring.  Stay off the freeway and go find a neighborhood that appeals to your sensibilities (or lack thereof).  And if you find yourself in the mood for some Vietnamese Crawfish...yeah they have that too.