My last trip to Enchanted Rock was a cold and rainy January day.   The Summit Trail was closed due to the wet ground, but we decided to stay and walk around.    It was only a couple degrees over freezing and we almost quit before we started.  It ended up being a nice hike and we saw a side of the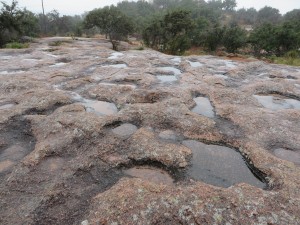 park that I had not experienced before.  In a way, it was more interesting.   Walking around the perimeter gave me a chance to appreciate the rock formations and natural habitat.   Without having a "destination" – we were free to explore at our own pace.
Since Fredricksburg is right around the proverbial corner from Enchanted Rock, we decided to wrap up our day there.    The Christmas lights were still on display and it made Main Street an even more charming site that usual.   Fredricksburg has a couple too many trinket shops for my taste, but here are a a few things that I've found to be interesting over the span of several visits.
Stay – I've yet to find a really memorable place, but the Hampton Inn is at least clean and in the middle of the action.
Eat/Drink – Lincoln Street Wine Market is easily my favorite place to hang out.   Nice atmosphere and the staff does a great job of making you feel at home.   If you'd rather hang out on Main Street and watch the world go by, Silver Creek is a solid choice.
Do – The National Museum of the Pacific War is a surprisingly well done center for being in a small town.   And I can't vouch for much of the shopping, but It's a Glow is a neat little shop worth dropping in to check out their honeycomb calcite pieces.   I'm just hoping my Happy Stone lives up to its name.   Here's to a year of travel and new adventures.
Happy 2015