When I was a kid – we would occasional pile into the car on a Sunday afternoon and go for a drive.   While the experience may not have been unique to my family, it was one of my first exposures to the concept of exploration and travel.   Recently, I've resumed the practice of taking a Sunday drive as time permits.   San Antonio is great spot for a mini-break from Austin without having to travel far.
Let's get the obvious out of the way right off the bat.  The River Walk is a tourist trap.    It's full of mediocre Tex-Mex restaurants willing to be the backdrop in the play.  On the bright side, you can walk without destination in mind and be content just being in the moment.   And because it's a essentially a tourist/convention district – weekends provides ample supply of hotels for any taste at a reasonable price tag.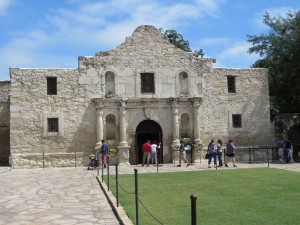 There are very few places I can earnestly recommend, but I've found a few spots that are comfortable and find their way on my regular rotation.   The service at Ostra is always prompt and friendly.  The bar is quiet enough that it's easy to strike up a conversation with whatever (typically eccentric) character ends up on the bar stool next to yours.  For reasons I can't fully explain – Mi Tierra has become my touchstone in San Antonio and no trip is complete without a visit.
Hotels are obviously a matter of personal taste.  Everyone should get a river view room at La Mansion Del Rio at least once.  It might not be the nicest, but it's quintessential River Walk lodging.  My personal favorite is the Hotel Valencia.  It's a quirky boutique hotel and perhaps not for every taste, but it's a nice place that's right on the river while being off the beaten path enough to avoid the bulk of the crowds (and noise).
Oh….and Remember The Alamo.   It is why you came after all – right?