Dear Marfa,
On behalf of the entire city of Austin, I apologize.  It appears we have overrun your quaint and quirky little town.   We figured if "weird" works well in Austin, then you'd love us in Marfa.  Who doesn't love a good food trailer and a cold can of PBR – right?
Yes, it's true.  It appears Austin has made Marfa our own little satellite outpost in the middle of West Texas.  We wanted to get out of town for the weekend and you looked just "far out" enough to suite our tastes and travel budget.   And when we heard Liz Lambert was opening a trailer park hotel, well – you had us at hello.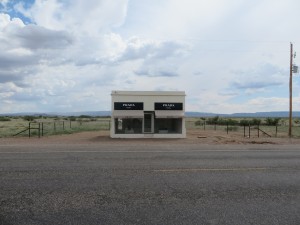 I had a feeling our cover was blown when the first 3 guys I met at the hotel bar were in a band from Austin and in town for a gig.   A car in the parking lot with the Waterloo Records bumper sticker didn't help.    Nonetheless, your hospitality was most appreciated.
We'll see you again soon.  Now, if there was just a way for us to get there on a Vespa.
P.S.  Thanks for sharing the story of your town mascot.  We've got lots of folks in Austin looking for #tictacmarfa.   I hope he makes his way home soon!