Austin took our first crack at hosting the XGames a weekend ago and by all accounts seemed to be a successful event.    Things mostly went off without a hitch, but my guess is both the crowd and event coordinators learned a few things that will help make next year even better.   For myself, it was entertaining and I'm glad I experienced it.    A few observations:
The human powered events – at least for me – were more entertaining that the machine powered ones.   Getting a bird's eye view of someone launching themselves off an impossibly tall ramp on a bicycle or skateboard is impressive.  It's one of those events that you can't tell whether the athletes are brilliant or crazy – most likely a bit of both.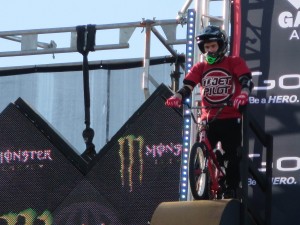 Austin can be hot in June….and windy.   The heat took a toll on both fans and participants.   Race cars hovering under shady bridges waiting for their start and fans finding creative ways to stay cool.  The wind was a welcome reprieve, but played spoiler to a couple of aerial events that had to be modified, and in one case cancelled entirely.
There's a lot to do beyond the events.    A true family affair with something for everyone.   From kids riding mini skate parks to fans getting to meet their heroes – there were lots of ways to feel engaged with the events and feel like you are peeking behind the scenes.   XGames also did a great job of sprinkling in Austin feel with local musicians and food trucks.
I believe the initial contract is for 3 years.  There were a few small missteps along the way, but given the crowd and athlete response – this may be the first year of another long-standing Austin tradition.   Welcome to town!