The first time I saw Flogging Molly was at ACL Festival several years ago.  It was a rainy day (back when it used to rain in Austin) and I was watching Citizen Cope on one of the main stages.   The rain made everything feel dreary and Citizen Cope – although I like him – wasn't exactly adding energy.  Looking for a change of pace, we headed off and sloshed into Flogging Molly.   The energy and watching the muddy mosh pit were exactly the cure and it turned out to be a great day.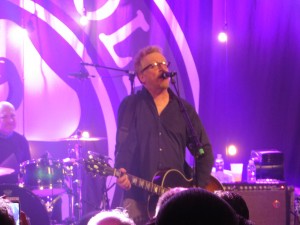 Fast forward to last night and Flogging Molly did again what they do best.  I suppose I've seen them a handful of times now and never walked away not feeling more positive about the world.   They played a bit of old and a bit of new and the crowd surged along happily.   Although not a mosh-pitter myself, I don't mind getting close enough to feel the occasional jostle or have a few sips of beer spilled on my sleeves.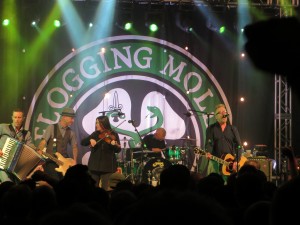 After 10ish days of SXSW and the brief surge of St. Paddy's Day, a night at Stubb's was a perfect way to wind down a couple weeks of being on the go.  Now as spring begins, I'll meld back into a more natural pattern of the occasional show bookending mostly routine days.  But when I'm sitting at home doing laundry, don't be surprised if you here me humming "Requiem for a Dying Song".