I don't get out as much as I'd like, but still look forward to great music when I have the chance.  SXSW has turned into one of my favorite times of the year, but I'll leave it (and ACL) out here for the sake of digging a little deeper.   Here are five of my favorites from 2013.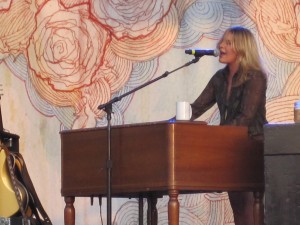 1) Willie Nelson (@ The Backyard) – as iconic as Austin music gets.  What started as a birthday concert for himself, quickly turned into a benefit concert of the citizens of West after the explosion there.  The gesture was quintessential Willie.
2) Ed Sheeran (@ Stubb's) – I saw Ed twice during SXSW 2012 and haven't been surprised to see his career continuing to rise.  His fan base tilts toward screaming teenage girls than my usual crowd, but he's still a great artist.  And Stubb's is one of the best venues around.
3) Imagine Dragons (@ AT&T Park, San Francisco) – technically opened for Train as part of a corporate event, but they stole the show.  Plus, being able to stand on the Giants home plate was pretty cool.
4) Dawes/Grace Potter/Avett Brothers (@ A360) – my inaugural trip to Circuit of the Americas did not disappoint.  Any one of these bands would have been a good stand-alone show, so it was a great triple bill.

5) Unplugged at Shady Grove – it's not so much about any particular artist (although they book some great ones), Thursdays from spring to fall often find me on Barton Springs under the trees.   There is a great group of regulars that make each week feel like a reunion of old friends