I was reminded last week during the rainy days that Austin is an outdoor city at its heart.  Even during the scorching heat of summer, we tend to gather in outdoor spaces – whether for concerts, sporting events, meals, or the occasional birthday party for an imaginary donkey.
Since I'm hopeful that we'll see a few more rainy days this spring, here are five ways I might spent the next one: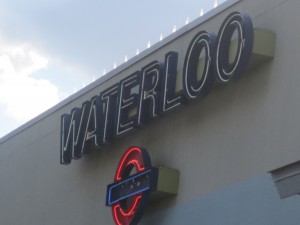 Waterloo – I don't go as often as I used to, but still one of my favorite spots to pass time.  It's easy to get lost in the rows of CD's – stumbling across old favorites or finding something new.   As a bonus, you can make this one a trifecta by walking across the street to Book People and including a lunch stop at Whole Foods.
Blanton – okay it might not be The Met, but it's ours and a nice quiet spot to glimpse back in time.
Alamo Draft House – movies, beer, & food all under one roof – enough said.
Go to a library – I'm guilty of not having done this in a long time, but it's on my list to reintroduce and a rainy day seems like the perfect time.  Kindles and IPads are great, but there is still something about turning the pages of actual book that can't be beat.
Play in the rain at Zilker Park – I don't know what it is about the drought, but I've rediscovered a childlike joy of being outside in the rain.   And what better place to do it than on Austin's Great Lawn?  So grab that pair of shoes that you set aside for rainy ACL days and go have fun!