It seems like the first few days after ACL every year – I swear it's going to be my last.  My feet hurt, clothes are dirty, there is inevitably some sort of weather event – dust, rain, sweltering heat etc., and the crowds are tedious.  Then the next ticket sale will be announced.  Blinded by the fear that *this* will be the year with every show I want to see – I jump in wholeheartedly and start the process again.  I must be adjusting my expectations – or maybe just broken down – but either way I'm already looking forward to next year.  In the meantime – here is a summary of the 2012 version.  Bands in order of schedule and highlighted the ones I'd go see again given the chance. "/" for two bands overlapping where I caught part of each.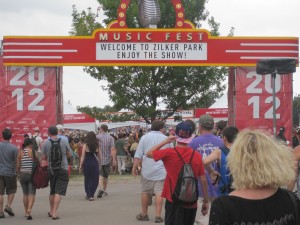 Friday – First Aid Kit, LP, Esperanza Spalding/Ben Howard, (break from the heat and a swirl at Chuy's), A-Track, Weezer, Thievery Corporation, M. Ward, AVICII
Saturday – Sonambulo, Metric/Michael Kiwanuka, (food), Shins, Gotye, Jack White/Neil Young
Sunday – Gary Clark Jr., Polica/Tennis, Two Door Cinema Club, The Weekend/Ruthie Foster, (food), Avett Brothers, Childish Gambino, Red Hot Chili Peppers
Among the highlights – Two Door Cinema Club, Avett Brothers, David Bull and Tim Love bringing their talent to the already tasty food court.
Disappointment – Gotye.  Even Kimbra couldn't save this one.
And now for something completely different – A-Track, AVICII
See you next year ACLFest!